The link between low and high power Holmium lasers
Up to 35W, for fast incision of soft tissues.
Compact design allowing easy transportation and storage
High Versatility in soft tissue surgery
Vapor TunnelTM mode, for reduced stone retropulsion
High power emission also with the smallest fibers
Double footswitch, allowing immediate emission change
MasterPULSE technology to fine-tune laser emission based on 7 pulse width steps
Up to 5J, enabling the fragmentation of the hardest stones
Wide range of fiber diameters and types available, for enhanced surgical versatility
The device at a glance
The new Litho EVO device represents the evolution of Quanta System low power Holmium line (Litho), improving the performances of its predecessors and adding some of the innovations recently introduced with our high power Holmium line.
Litho EVO is designed for enhanced versatility in lithotripsy and soft tissue surgery. The user has the possibility to be guided in the selection of emission parameters, to save his favorite settings and to switch immediately between different settings thanks to the double footswitch. The use of the MasterPULSE and Vapor TunnelTM technologies further empowers the surgeon with advanced treatment tools.
MasterPULSE
Reducing retropulsion and modifying tissue cutting gets easier: instead of trying multiple different settings, start with your preferred ones and then adjust the MasterPULSE to tune the effect of laser emission based on your visual feedback.
Experience a more intuitive and faster adjustment of laser settings thanks to the 7 pulse width levels (compared to the traditional 3 steps of the other holmium lasers).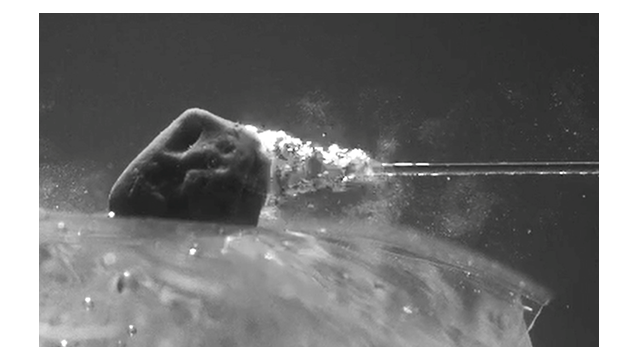 Vapor TunnelTM
Specific laser pulse modulation generates longer bubbles able to extend further, creating a connection channel with stone target, granting enhanced energy delivery and thus effective and fast ablation of it. As the bubble has touched the stone, retropulsion is limited..
High Power with small fibers
Litho EVO device is designed for extreme performance already with small standard fibers (allowing almost full power even with the smallest fiber diameters).
Thanks to this feature, the user shall not refrain from having fiber flexibility and high emission power at the same time.
Guided modality
Quanta System enhanced the user-friendliness of this low power system with a guided modality to automatically select proper settings based on the intended treatments.
Apart from stone lithotripsy and soft tissue surgery in urology, dedicated preset is present also for fragmentation of gallstones.
Double Footswitch
The double footswitch enables surgical versatility, by allowing the surgeon to switch form one treatment mode to another immediately instead of asking to a nurse to adjust the settings.
For instance, the surgeon may switch from fragmentation to popcorning or from incision to coagulation modes, speeding up the treatments.
Wide range of fibers
A great versatility in applications requires a wide range of delivery probes. For this reason, Litho EVO laser is compatible with different fiber diameters (200-1000µm) and types.
Apart from standard fibers, our portfolio includes also other fiber models, such as the ball tip fibers (for easier insertion into already bent scope).
Compact Design
The light weight and compact tower design of the device allow easy transportation and storage in the hospital, with limited space needed in the OR during the surgical procedure.
These features make Litho EVO laser suitable for use in different hospitals and for recurrent relocations, without affecting the performances and condition of the device.
Wide Range of Applications
Its limited depth of penetration (0.3-0.4mm), together with the incision and hemostasis properties of this radiation, enables a large variety of surgical treatments.
Apart from stone fragmentation (urolithiasis, salivary stones, gallstones) and urology treatments (e.g. strictures, tumors), Litho EVO device can perform effective soft tissue surgery in other medical specialties, including General Surgery, Arthroscopy and ENT.
Note: Carousel will only load on frontend.