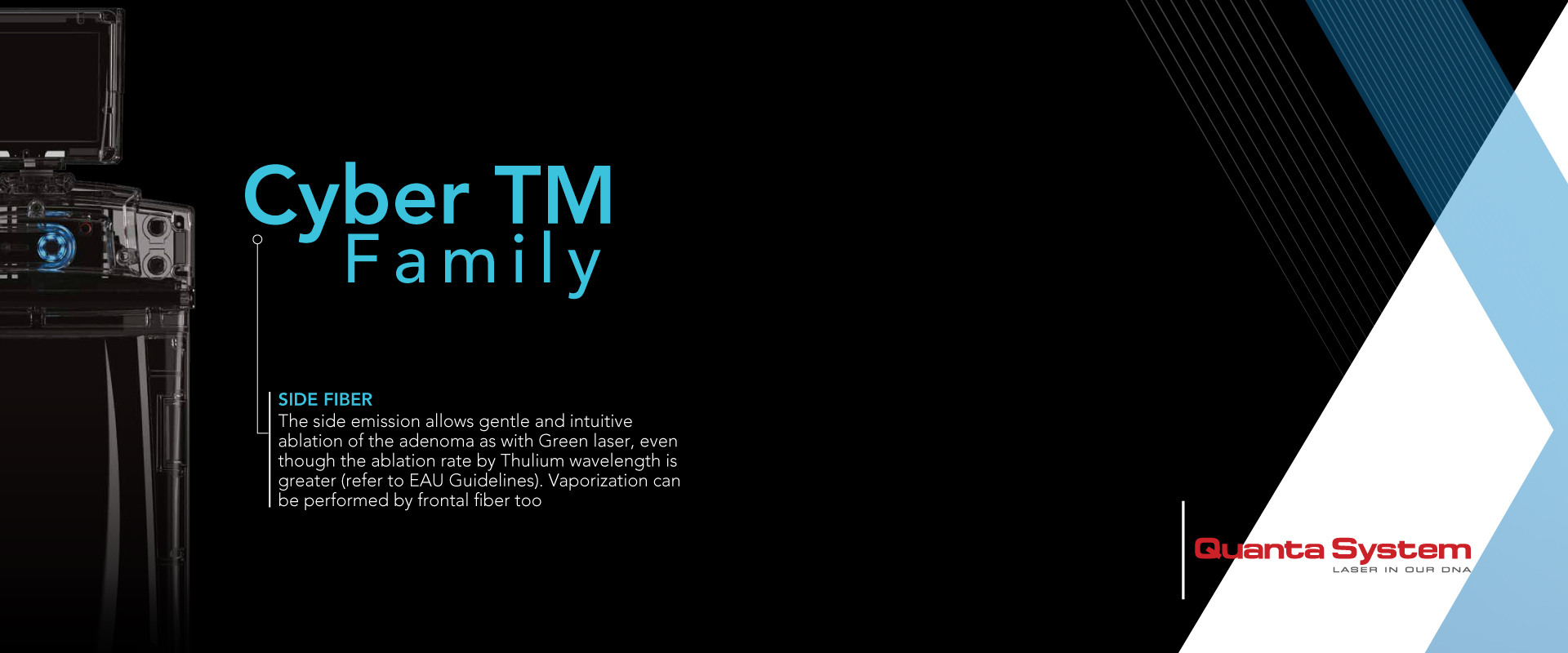 150W – 200W THULIUM SURGICAL LASER SYSTEM
Superior versatility in BPH procedures, allowing enucleation, vaporization and vaporesection of prostatic adenoma.
Wide range of fiber diameters and types available, for enhanced surgical versatility.
Wheel dampers, for easy and safe relocation and transportation.
Up to 200W power, for the fastest vaporization of prostatic adenoma.
Supreme versatility, thanks to the unique combination of superior cutting/ablation properties, minimal damage and hemostasis.
Saving and Loading of customized preset modes Limited depth of penetration (0.1-0.2 mm only).
Enhanced hemostatic capabilities already while cutting, for limited blood loss during treatment.
Up to 100Hz frequency for faster pulse delivery during soft tissue surgery.
Side Fiber available for intuitive vaporization of prostatic adenoma (also achievable with frontal fiber).
The device at a glance
Cyber TM represents the family of high power Thulium laser (150W e 200W) dedicated to BPH and urology treatments, together with other soft tissue surgery in many other medical specialties. Its 2 μm radiation is strongly absorbed by water (highly present in all tissues), making its cutting and vaporization speed relatively constant during the procedure regardless of tissue vascularization. Furthermore, this wavelength results in extremely reduced depth of penetration (0.1-0.2 mm), efficient tissue ablation and effective hemostasis.
Supreme BPH versatility
Enucleation and Vaporization of the adenoma are available with the same device, without constraints in technique selection.
Thulium enucleation technique is not dependent on the size, highly customizable, with the possibility to switch quickly from cutting to coagulation thanks to the double footswitch. On the other hand, Thulium vaporization is an easy and intuitive procedure, obviating the use of morcellator, taking advantage of the maximum power of this device for faster treatments. Alternatively, vaporesection technique can be effectively performed to skip the morcellation phase.
The highest power
Cyber TM represents the thulium surgical laser featured with the greatest output power on the market: 200W.
This emission power, coupled with the 1000µm fiber, enables the fastest vaporization of the adenoma thanks to the powerful ablation on very large areas.
Confined Damage
and Superior Hemostasis
The 2 µm radiation is strongly absorbed by water, resulting in minimal depth of penetration (0.1-0.2 mm), with no alteration of tissue layers beyond the surface (on the side, tissue appearance after 24hours upon vaporization). This interaction results in precise cut and ablation, providing the surgeon with a high degree of control and reducing the risk of inadvertent injury substantially. Thulium wavelength enhances hemostatic effectiveness already while cutting as well.
Established Technology
Cyber TM device is a well-established laser technology on the global market. As demonstrated by its long presence on the market, (introduced in 2009) and over 300 installations worldwide in more than 25 different countries, this device represents a reliable and highly effective surgical solution for a large variety of surgical treatments.
Superior Multidisciplinarity
Thanks to its unique laser properties and minimal damage, Thulium laser allows effective excision, cutting, ablation and coagulation of soft tissues in different medical specialties.
Apart from Urology, Cyber TM can be used in Thoracic Surgery, Partial Nephrectomy, Gastroenterology, ENT, General Surgery, Gynecology.
Based on that, this laser device can address multiple needs from different wards of the same hospital.
Thoracic and GI Surgery
Use of Thulium laser was proven to be effective not only in the urology field, but also in the thoracic field (for precise cutting in lung resection and endobronchial ablation) and in the gastroenterology field (with its ablation and coagulation effectiveness coming in handy as an alternative to APC surgery).
Some of these laser applications are detailed in published studies with
Cyber TM.
Clinical Evidences
Since its introduction to the market, use of Cyber TM device has been reported in multiple publications by different institutions. These publications and research activities provide strong clinical evidences regarding the safety and effectiveness of Cyber TM laser within different medical fields. Indeed, more than 50 publications detail the outcomes after the use of this laser in BPH, Soft Tissue Urologic surgery, Thoracic surgery, Gastroenterology etc.
Note: Carousel will only load on frontend.